Mystery
Lunch
Mystery Lunch connects colleagues from different departments over lunch. That strengthens corporate culture, enables knowledge exchanges, and increases employee satisfaction.
More than 250 customers worldwide
Advantages
The benefits of having lunch together
Enable knowledge transfer
Colleagues get to know the roles and tasks of the other departments.
Internal networking within companies creates valuable personal networks of knowledge and skills.
Establish networking
Employees build up an internal network across departments and locations.
Better connections prevent silo mentalities from forming and dismantle existing knowledge silos.
Easy to start
Colleagues can quickly and easily register and create their own profile.
This enables the number of participating colleagues to grow as quickly as possible.
Strengthening culture
Regular exchanges help colleagues to understand the expectations others have of their own role and tasks.
This creates appreciation, cohesion, and a positive corporate culture.
Numbers
Networking is important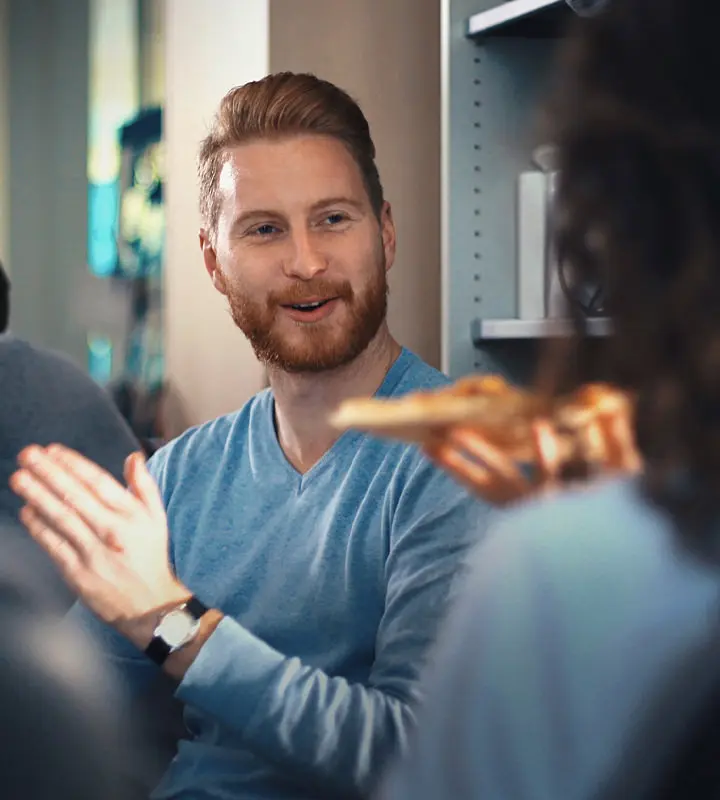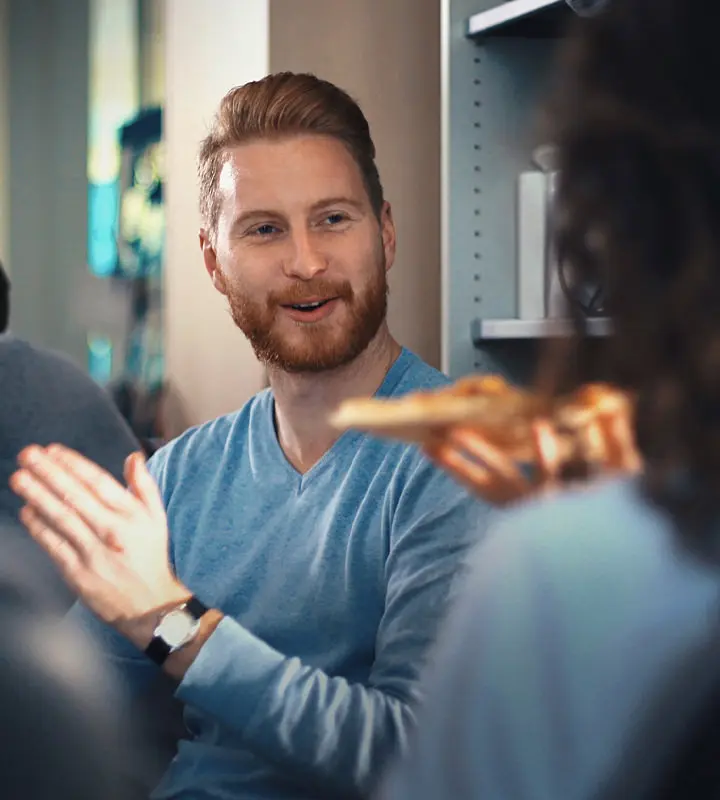 Companies should actively encourage employee networking on site because:
68%
of employees in the office think friendly relationships with their colleagues are important
29%
of employees state that they have people in their department who they have never met personally
73%
of employees would very likely participate in company social events in the future
68%

of employees in the office think friendly relationships with their colleagues are important

29%

of employees state that they have people in their department who they have never met personally

73%

of employees would very likely participate in company social events in the future
Testimonials
Our customers love us
We have been using Mystery Minds at Allianz Global Corporate & Specialty since the start of the coronavirus pandemic. During this time, it was the easiest way for many colleagues to get in touch with colleagues they didn't know and to look outside the box of their own department. Newcomers, in particular, have made great use of this and have built up an initial network. Meanwhile, our Lunch Roulette is an indispensable part of the daily life of the company and contributes to a lively corporate culture and lots of communication.

Daniel Aschoff, Head of Communications at Allianz Globagl Corporate & Specialty in Central and Eastern Europe

Collaboration is the fuel of the future – As a global technical service provider, it is important to us that our employees around the world network and exchange ideas. Mystery Coffee not only strengthens our innovative power, but also our corporate identity and the resilience of our employees.

Sina Marold, Head of HR Maritime Operations, Maritime at DNV

After more than 2 years, Mystery Coffee has become a key element of our employee experience and a great tool for fostering smooth internal communication. Thanks to the great customer service and ongoing advice from the Mystery Minds team, we also rolled it out internationally and now we can connect with colleagues in other countries too!

Cristina Conesa, Head of Marketing & Communications

Mystery Coffee has exceeded our expectations. When the pandemic started, we were looking for an effective way to significantly improve employee engagement in our increasingly virtual world. After 20 months, the user-friendly platform provided by Mystery Minds has created thousands of new relationships across our company. I get emails all the time from coworkers saying, 'I just had the best Mystery Coffee'. I highly recommend it for any organization serious about driving positive company culture and employee engagement.

Tom Bachmann, Culture Shaping Manager and Senior Champion

Mystery Coffee is just such a great tool to stimulate conversations and build relationships across organizational boundaries and physical locations. I have met amazing colleagues I did not even know existed and had many deep and insightful conversations.

Joel Nielsen, Division of Human Resources / GLDC Chief of Regional Talent Management Team
Use cases
We bring your employees together
Why Mystery Minds?
Your customized tool for employee networking
Custom matching
You determine the criteria according to which your employees are matched for a meeting.
Personalization
Incorporate your corporate design and Mystery Lunch becomes your personal platform.
Personal contact person
You will receive a direct contact person from us, who will be available to you at all times.
All-inclusive carefree package
We will take care of the setup, support the launch and ensure smooth operations.
Participant support
Our support team will take care of all enquiries from your participating employees.
Data protection and IT security
Penetration tests, hosting in Germany, and encrypted data transmission ensure security.
Success stories
See where we've already made matches
Questions and answers
Let us answer your questions
Who is Mystery Lunch suitable for?
We particularly recommend Mystery Lunch for employees on site or hybrid teams in large organisations that are spread over several locations. Mystery Lunch is used by companies from different industries and countries around the world to network their employees and promote personal exchange even beyond departments and teams.
How do I get my own Mystery Lunch platform?
To make Mystery Lunch available to your employees, first contact our Connecting People Experts. Together, you can build your individual platform, so you can customize the design, matching criteria, and email texts. Our Customer Success Managers will support you over the further course of your internal launch and with activating as many participants as possible.
What can Mystery Lunch be used for?
Mystery Lunch offers lots of different uses. In our Solutions section, you will find numerous examples of which tasks Mystery Lunch can take on in your company. Don't see the right solution there? Then simply contact us and we will develop the perfect solution for employee networking in your company together.
How much does Mystery Lunch cost?
The price for your custom Mystery Lunch platform depends on your requirements – after all, we want to tailor our services perfectly to the needs of your company. Simply contact our Connecting People Experts and they will be happy to provide you with further information or a non-binding offer. We look forward to hearing from you.
Does Mystery Lunch support multiple languages?
Yes, Mystery Lunch supports a wide range of different languages, so we connect employees all over the world. For more detailed information about your language selection and individual design, please contact our Connecting People Experts. They will be happy to help you with any questions about setting up an international platform for your employees.
Is my data safe with Mystery Minds?
Your data is in safe hands at Mystery Minds. We are committed to very high security standards and attach great importance to them. That's why we conduct annual penetration tests and host our own servers in Germany. You can also find all information about data protection and security here.
Can I see whether my employees are using Mystery Lunch?
The administrators of your Mystery Lunch platform get access to your reporting cockpit. Here, you can see how many employees are using Mystery Lunch, how the numbers are developing, and how many matches have taken place so far. You decide which information is visible there. In addition, you will find resources for managing your platform and activating other participants.
Can Mystery Lunch be tested for free?
Yes, you can test Mystery Lunch free of charge for 30 days in your company. Together with your colleagues you can get to know all the functions and learn how our solution helps to promote communication and active exchange. In this way, you can decide at your leisure whether Mystery Lunch suits you.