Mystery Lunch bei REDBLUE – ein Blick über den Tellerrand
Blog / October 20, 2022 / with Lisa Debatin
Dieser Artikel erschien im Original auf der Website der redblue Marketing GmbH und wird mit Einverständnis der redblue Marketing GmbH hier veröffentlicht.
MYSTERY LUNCH BEI REDBLUE – EIN BLICK ÜBER DEN TELLERRAND
Kollegen, die vorher kaum oder gar keine Berührungspunkte haben, kommen im Rahmen eines Mittagessens zusammen und vernetzen sich: Diese Idee hat Nico (Controlling) und Stefan (Team Customer Analytics) von der redblue Marketing GmbH, einer Tochter der Media-Saturn-Holding GmbH, sofort gefallen. Als sie die Chance bekamen, Mystery Lunch mal auszuprobieren, haben sie nicht lange gezögert.
WIR HABEN NICO UND STEFAN INTERVIEWT – HIER IHR ERFAHRUNGSBERICHT:
"Mein erstes Mystery Lunch war eine absolut positive Erfahrung und das Organisatorische im Vorfeld echt easy", berichtet Nico. "Nach meiner Anmeldung hatte Mystery Lunch Stefan und mir per Mail einen Termin vorgeschlagen. Wir haben uns dann direkt kontaktiert und uns sogar zu einem noch früheren Termin verabredet, der bei uns Beiden gepasst hat. Ich war auf jeden Fall neugierig und gespannt, weil ich Stefan bis dato nur vom Namen her kannte."
Stefan ergänzt: "Mir ging es genauso. Ich war megagespannt auf Nicos Geschichte. Wir haben uns in der Kantine etwas zu Essen besorgt und unser Mystery Lunch dann ganz entspannt in der Lounge im Neubau gestartet. Die Zeit verging schneller als gedacht, denn jeder bringt ja seinen individuellen beruflichen und privaten Background mit. Klar, das erfordert Aufmerksamkeit und auch ein bisschen Mut, denn man muss sich ja auf die fremde Person einlassen. Das ist vielleicht ,anstrengender´ als im Gespräch mit den gewohnten Kollegen. Dafür gewinnt man aber an Erfahrung und neuen Kontakten."
"Das kann ich nur bestätigen", sagt Nico. "Stefan und ich waren überrascht, wie viele Unterschiede und Gemeinsamkeiten sich zugleich herauskristallisiert haben. Allein auf beruflicher Ebene. Wir haben das am Beispiel der Kundenbindungsprogramme ,MediaMarkt Club´ und ,Saturn Card´ festgestellt. Während Stefan natürlich viel aus CRM-Perspektive und über Wachstum gesprochen hat, habe ich meinen Blick auf die damit verbundenen Kosten geschildert. Am Ende stellten wir fest, dass wir trotzdem mit unserem täglichen Handeln dasselbe Unternehmensziel verfolgen."
"Das stimmt", sagt Stefan. "Das Über-den-Tellerrand-Schauen ist definitiv eingetreten. Wir haben Beide in kurzer Zeit fachlich dazugelernt. Aber natürlich kommt man auch privat ins Gespräch. Mit ganz klassischen Themen wie: Bist Du Münchner oder ,Zuagroaster? Wie lange bist Du bei Redblue und was hast Du vorher so gemacht?"
Auch beim Fazit sind sich Nico und Stefan einig: "Das war ein super Start! Nach so einem Mittagessen begegnet man sich ganz anders auf dem Gang. Wir freuen uns schon auf unser nächstes Mystery Lunch!" Stefan fügt abschließend hinzu: "Mysterylunchen ist wirklich eine supercoole Sache. Gerade für Leute wie mich aus dem CRM-Bereich, der ja noch nicht lange am Campus München angesiedelt ist. Noch nie war Networking mit den Kollegen einfacher."
Newsletter
Always stay in the know
Don't miss any news about employee networking and sign up for the Mystery Minds newsletter free of charge and without obligation. We will inform you regularly how you can improve the personal exchange of colleagues in your company.
Subscribe to the newsletter right here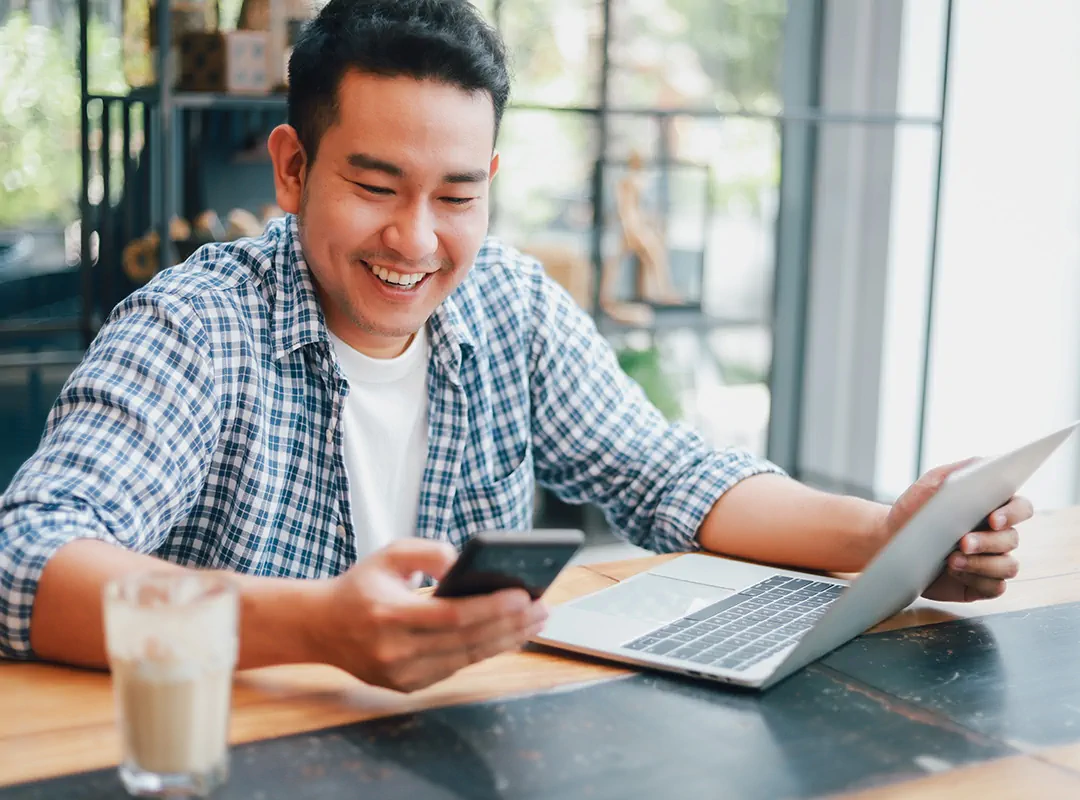 Always stay in the know