Hybrid work collaboration
Blog / October 20, 2022 / with Lisa Debatin
HOW TEAMWORK AND MEETINGS SUCCEED EVEN IN A HYBRID WORKING ENVIRONMENT
The working from home regulations are slowly coming to an end and are not to be extended. Consequently, many employees are wondering what this means for their job and their team. The number of employees allowed in offices is still limited in most companies, and some colleagues will probably continue to work from home. But what does this mean in concrete terms for team collaboration? How can hybrid collaboration be successful if half of the team is in the office and the other half works from home?
HYBRID COLLABORATION – WHAT ARE THE CHALLENGES?
According to recent research by Lucid with 311 decision-makers in North America and Europe, improving the remote and hybrid work environment is one of the highest priorities in 2022. "Offices are reopening, and new hybrid workplace models are emerging – it's clear from the data [of the research] that organizations need to create a frictionless and visual experience for employee collaboration," said Nathan Rawlins, CMO at Lucid.
It's important to understand that hybrid work doesn't always look the same but can vary by company or even department. Google, for example, announced in early May a flexible and hybrid work model in which employees not only combine home office and office but also take advantage of "work from anywhere" for up to four weeks a year.
The challenges associated with this work model vary widely. In general, the following can be summarized:
Feeling of exclusion and impeded career development for employees who are not present in the office
Less personal on-site interaction with supervisors
Difficulty networking and meeting random people due to flexible schedules
Lack of face-to-face onboarding of new employees in a hybrid work environment
Erosion of corporate culture, as the office is no longer the central place of identification with the company values
Innovation, creativity, and brainstorming in the team are hampered
Integration of home office colleagues into meetings in the office, so-called hybrid team meetings
In addition, there is the problem of coordination and planning. Some teams use booking systems or Excel lists to track who is in the office and when. This is not only cumbersome but also time-consuming. A simple and free tool to plan better in a team is Hy!There.
EFFECTIVE TEAMWORK AND HYBRID COLLABORATION
To successfully overcome these challenges, one thing is essential: communication within the team. Ideally, this should not only take place constantly but also include everyone in the team. Although some colleagues can finally again briefly exchange ideas on specific topics and projects in the hallway or the coffee kitchen, others still have to schedule meetings for agreements or make phone calls. Therefore it is necessary always to update those working from home on the current status of projects and keep them up to date via brief arrangements in the coffee kitchen.
An overview of all employees' office and home office days is just as essential as regular teambuilding activities. Corporate culture is made of components such as connectedness, trust, and shared values. Often, this is bundled into the place associated with the company: the office.
Consequently, corporate culture must be maintained even when this common place of connectedness is gone.
Regular team events such as an online escape room or virtual coffee breaks are the optimal solution here.
Our free whitepaper also shows other easy-to-implement ideas that promote corporate culture and communication between employees to enable hybrid collaboration.
MANAGERS AS A LINK
To create a suitable basis for exchange, companies must equip team leaders and managers with the right skills.
They are the link between the team members and the company and can therefore not be ignored. In particular, so-called "soft skills" such as empathy and emotional intelligence are essential to prepare managers for the challenges ahead. Does a team member feel left out in the home office? There is frustration in the team about the new work situation? All this should be prevented, recognized, and also remedied in time by the responsible managers.
In addition, team members must also be sensitized to such possible situations. Hybrid teams function best when they have a mutual understanding for the other members.
SUCCESSFULLY SHAPING HYBRID MEETINGS
But how does the day-to-day work of a hybrid team look?
Microsoft Teams, Google Meet, Cisco Webex, and Zoom, for example, have been the talk of the town since the beginning of the working from home era as the universal solution for distributed collaboration.
However, these tools reach their limits when half of the team is now back in the office, and the other half is working from their home desks. Moreover, colleagues in the home office will not participate equally in the meeting despite their virtual presence: Subtleties such as body language, mood, emotions, or even conscious and unconscious interaction between colleagues are not always perceptible via the screen. Thus, other tools are needed to support hybrid collaboration within teams in these situations.
It is important to define what type of meeting we are talking about to choose the right tool. Five types of meetings can be distinguished, each of which requires a different type of collaboration:
CREATIVE MEETINGS
The goal is to develop new ideas, brainstorm together, and gather input on a topic. These meetings are less complicated by a hybrid work environment if the correct tools are used. Miro, for example, is an ideal tool for collecting ideas together. However, the prerequisite is that each team member logs in separately to work on the Miro board. Another handy tool here is Lucidspark, a virtual whiteboard where teams can come together to gather their best ideas.
INFO MEETINGS
These meetings are to exchange information about developments within the company or about specific projects.
In most cases, the following steps are discussed, and tasks are distributed. It is crucial to ensure that all employees join in individually and turn on their cameras in hybrid teams. Thus, all participants have the same experience of the meeting.
DECISION MEETINGS
Decisions are made, and discussions take place. Of course, this works best on-site, as it is easier to perceive the other person's posture, facial expressions, and gestures. In hybrid teams, it is important to ensure that the mobile employees also have their say and participate in the discussion exclusively via their device to enable an exchange at eye level.
For an optimal overview of the decision-making process, keeping records in the "minutes of the meeting" is advisable. A suitable tool for this is Notion, which is an online wiki, where all participants can simultaneously note down their questions or open points.
STRATEGY MEETINGS
"What are our goals, and how do we achieve them?" is usually the leading question in strategy meetings. Usually, all responsible people from different departments are part of this meeting. Hence it must be ensured that everyone can meet at eye level. Microsoft Teams Rooms offer an optimal opportunity for hybrid meetings: all participants can see each other, review documents together, and participate equally.
OPERATIONAL MEETINGS
Operational meetings are to exchange information about the status of specific projects. A perfect tool to enable a good overview in hybrid teams is Team Gantt. At this project management overview platform, all team members can view and update the project's progress together. In addition, short agreements that have taken place in the office outside the meeting can be easily entered with the help of the comment function for the individual task. This facilitates communication about the project, and the meeting time can be used effectively.
Of course, all these meetings, especially decision-making and strategy meetings, can also be arranged face-to-face. An alternative to your own office is to rent co-working spaces or conference rooms. The useful tools mentioned, such as Team Gantt and Miro, can also be used here to coordinate and document the meetings to ensure a good overview once all participants switch back to hybrid work mode after the meeting.
HYBRID COLLABORATION AS AN OPPORTUNITY
In any case, the new, hybrid work mode should not only be associated with challenges. Even though hybrid collaboration can be tricky, it offers new opportunities for everyone, from management to individual team members,
Firstly, companies become more attractive to young Gen Y and Gen Z talent, who often prefer a flexible work environment. Therefore, companies have the opportunity to attract the best talent from this generation and retain it. This reduces employee turnover and minimizes recruiting and onboarding costs.
Secondly, employees who have wanted a more flexible work situation for years, due to family circumstances or even a long-distance relationship, will find the hybrid work concept appealing. In short, happy and satisfied employees mean less sick leave and layoffs, which is also beneficial for companies.
Do you like this article? Do you want to tell us your opinion on hybrid work and the future of work?
Share this article using #MysteryMinds #HybridCollaboration
Newsletter
Always stay in the know
Don't miss any news about employee networking and sign up for the Mystery Minds newsletter free of charge and without obligation. We will inform you regularly how you can improve the personal exchange of colleagues in your company.
Subscribe to the newsletter right here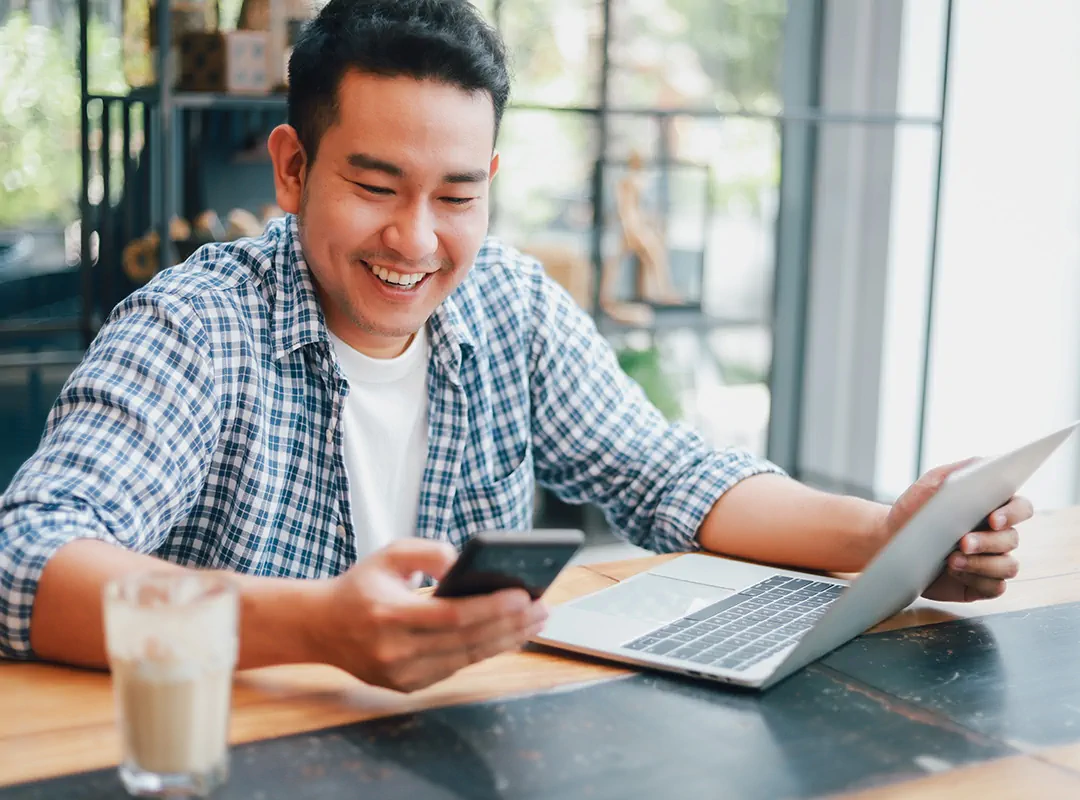 Always stay in the know